Transborder Café: In Barents We Trust
Arrangementsinformasjon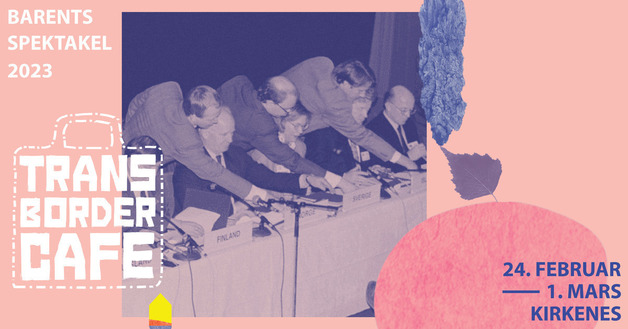 11. January 2023 marks the 30 years since the Kirkenes Declaration was signed by Norway, Russia, Sweden and Finland - and the Barents region became a reality.
Pikene på Broen and the Norwegian Barents Secretariat invite to mark this historic date - and to come together to discuss the way forward. Through introductions and panel discussions, we will take a glance back at the past - and together squint into the future for potential collaboration across borders in the north.
What led to the agreement and what influence has it had? How does the war affect cooperation across borders today? How can trust be rebuilt and what will the Barents region look like in five, ten and thirty new years?
PROGRAMME
17:30: Doors open
Mini exhibition: «Glimt fra Barentssamarbeidets historie» (Photos from Sør-Varanger library´s collection)
18:00: Welcome by the event hosts; Marit Jacobsen (Barents Secretariat) and Evgeny Goman (Pikene på Broen).
"30 years of Barents cooperation in 30 minutes" with Øyvind Nordsletten, Norwegian diplomat and former ambassador to Russia and Ukraine
PANEL DISCUSSION: 30 years of the Barents cooperation - how did it come about and what have we achieved?
Sverre Jervell, Norwegian diplomat and security policy researcher, for many years a close associate of Torvald Stoltenberg and worked closely on the process of the Kirkenes Declaration.
Vigdis Nygaard, political scientist and researcher at the independent research institute NORCE, with Russia and cross-regional cooperation in the Barents region as her research area
Bente S. Andersen, founder of Samovarteateret in 1990, of which she is still the leader today, and one of the founders of Pikene på Broen in 1996
Øyvind Nordsletten, Norwegian diplomat and former ambassador to Russia and Ukraine
- Cultural input and launch of the Barents Spektakel 2023! –
PANEL DISCUSSION: Where is the way ahead for the Barents cooperation?
Paavo Heinonen (FI), artistic director of Oulu Arts' Night since 2008, the editor of Kaltio magazine since 2010 and a member of Oulu city council since 2012.
Zhanna Guzenko (RU), culture producer and co-founder of Fridaymilk and the up to recent Murmansk based festival Inversia, Executive officer at Barents youth cooperation office in 2014-2016 and curator of international FM-art residency in Murmansk in 2015-2022. Currently based in Kirkenes.
Tim Andersson Rask (SE), journalist and Chairman of Barents Press Sweden.
Vera Arntsen (NO), International coordinator of Barents Sports.
Ofelas Arena will keep the bar open throughout the evening with drinks and snacks - and the evening also includes a cultural input and the launch of the program for the Barents Spektakel 2023!
The event will be streamed, and for participants attending online, Russian translation will be available.
We invite everyone, both those who are physically present in Kirkenes as well as digital participants, to join the conversation and discussion on this historic day. Welcome!